About Us
TM Wood Design Ltd, specialise in loft conversions, extensions and building work in the south east. Established in 1980 this family run business' specialised services are performed by a skilled and professional team. From our initial introduction through specialised design services to the completion of work, our aim is to make sure you get the building and service you want.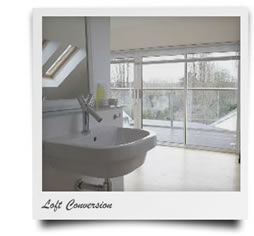 Quality Assurance
All our work is carried out by teams of skilled tradesmen and continually assessed and monitored by a buildings manager to ensure the highest quality end product.
Service
We pride ourselves on our service and is at the heart of our business. It starts with the first time we meet you and continues throughout all the building work through to completion and beyond.
Lower Total Cost of Ownership
We use the best suited materials and crafts to ensure that your building work is both at a reasonable price and lasts, making your investment worth its while.
Safety
Health and safety is a requirement by law, however, we aim to go above and beyond when it comes to the regulations making your build the safest. To find out more on our health safety and insurance please visit our safety pages.